Welcome
This site contains seven learning modules that introduce colleges and individuals to the design and operation of CLIPs. Communities of Learning, Inquiry, and Practice (CLIPs) provide opportunities for community college faculty to collaboratively study issues of importance to them about student learning and success. CLIPs are self-selected informal, dynamic groups of faculty and/or staff (and sometimes others). They conduct an inquiry together about a topic they identify about teaching, learning, and student success. Through participation in the CLIP, members build their capacity to collaboratively conduct such inquiries and enhance their professional practice. CLIPs add vitality to institutionally determined assessment, program review, and planning processes.
By participating in a CLIP, you can:
answer questions you have about teaching, learning, and student success
build relationships with colleagues in an enjoyable atmosphere
strengthen your inquiry and critical thinking skills
learn how colleagues are supporting student learning and success
generate support for making changes that help students
creatively enhance your ways of encouraging student learning and success
benefit from your college's focus on assessment
Press

below to hear more about what CLIPs are.
Click here for a visual representation of the CLIP process for an individual CLIP.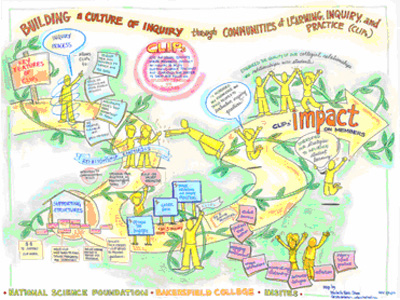 To learn more about navigating this site and the background research on which CLIPs are based, go to Site Overview. If you would like to download the modules to your computer rather than using this site, click here.